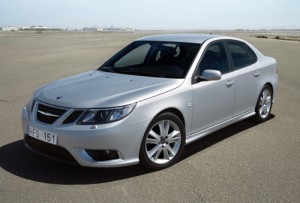 Saab might be going away, but loyal fans have a chance to get their hands on the Swedish auto maker's rarest remaining cars.
The bankrupt company's receivers in Sweden started an online auction Wednesday for some of the company's most recently produced rarities, including two 9-3 Cabriolet Independence editions, which were made to celebrate Saab's first year as an independent automaker.
The company planned to make 366 of them but wound up making only 38 before ceasing operations late last year. As of Friday afternoon, bids for those two cars were more than halfway toward their list price of 400,000 Swedish krona, the equivalent of about $60,000.
The auction will end in mid-December.
If the sporty Cabriolet Independence isn't your style, you can always bid on what will now and forever be known as the last Saab 9-5 sedan ever finished at the company's Trollhattan assembly plant. The current bid for that car is 121,500 krona, or just over $18,200.
Read more in Bankruptcy Beat.